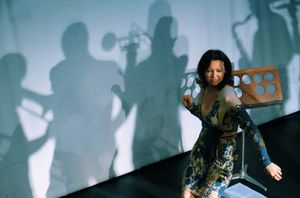 "

Barbara's writing has so much imagination and sophistication. She has instantly become one of my favorite composers and arrangers, and I look forward to watching her rise to stardom in the music world. She's one of the very best." - Christian McBride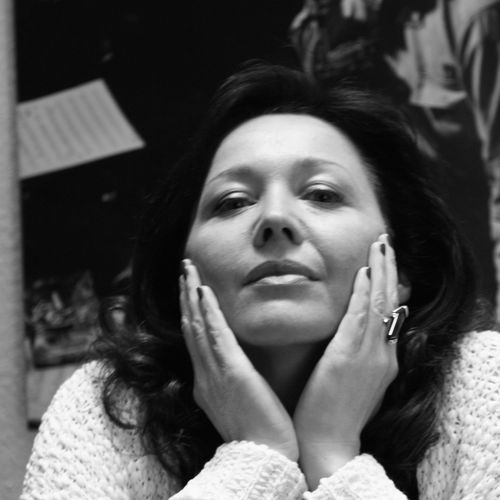 Biografie
(deutsch)
Seit die in Wien geborene Jazz-Komponistin und Pianistin Barbara Bruckmüller denken kann, hat sie der Big Band Sound in seinen Bann gezogen. Sie war fasziniert von der Energie und dem Rhythmus, die von den Swingbands und Tanzorchestern der 30er und 40er Jahre ausgingen. Später, während ihres Jazzklavierstudiums, wurde sie auf die Musik von Oliver Nelson, Gil Evans, Mel Lewis/Thad Jones, Bob Brookmeyer und Maria Schneider aufmerksam und entdeckte, dass eine Big Band nicht nur von ihrer Kraft lebt, sondern auch eine breite und tiefe Klangpalette bietet. 
Während ihres Studiums schrieb Barbara ihre ersten Big Band Kompositionen und Arrangements und gründete ihr eigenes Orchester. Sie hatte das Glück, dieses mit sehr bekannten und einigen der besten österreichischen und internationalen Jazzmusikern, wie dem Posaunisten Robert Bachner (Vienna Art Orchestra), der aufstrebenden Saxophonistin Viola Falb (Falbfiction, PHOEN) oder dem verstorbenen Bassisten Paulo Cardoso (Art Farmer, Benny Golson, Kenny Kirkland) besetzen zu können. 
2013 bekam sie für ihr Debütalbum "Barbara Bruckmüller Big Band", welches hauptsächlich Eigenkompositionen beinhaltet, den "Preis der deutschen Schallplattenkritik" und hatte die Ehre, Arrangements und Kompositionen für Christian McBride, sowie für Peter Herbert ( "Bass Instinct") und "The Su'Sis" zu schreiben. 
Ein Jahr später nahm Barbara die nächste CD auf, für die sie traditionelle Wiener Lieder für die Big Band arrangierte ("Mei Muatterl war a Weanarin"). 
2015/2016 war ihre Big Band die "Stage Band" im Jazz & Music Club Porgy & Bess, Wien. Für diese Konzertreihe schrieb sie unter anderem Filmmusik zu Alfred Hitchcocks Stummfilm "The Lodger", welche von ihrem kleinen Ensemble live zum Film gespielt wurde, arbeitete mit Spoken-Word-Artist Wadud Ahmad aus Philadelphia zusammen und zollte mit dem New Yorker Sänger Tony Hewitt Frank Sinatra (zum 100. Geburtstag) Tribut.
2017 erhielt Barbara ein Kompositionsstipendium des österreichischen Bundeskanzleramtes. Damit schrieb sie "A Chain of Moments – A Suite in Five Parts for Piano, Strings and Jazz Orchestra" und eine Suite für Thelonious Monk "MONK, you KNOW!?", wo sie die 15-köpfige Band um ein Streichquartett erweiterte. 
Ihre neueste Arbeit "The Spaces Within and Without" wurde im Oktober 2021 im Porgy&Bess, Wien aufgeführt.
Und gerade eben erschien Barbara's erstes Vinyl Album (EP) "Barbara Bruckmüller Big Band live at Porgy&Bess, Sept 5, 2020"
Biographie
(english)
Ever since the Vienna-born jazz composer and pianist Barbara Bruckmüller can remember, the Big Band Sound cast a spell on her. She was fascinated by the energy and the rhythm that came from the swing bands and dance orchestras of the 30ties and 40ties. Later, in the course of her jazz piano studies, the music of Oliver Nelson, Gil Evans, Mel Lewis/Thad Jones, Bob Brookmeyer and Maria Schneider came to her attention and she discovered that a Big Band not only lives from its power, but also offers a wide and deep range of sounds.   
During her studies Barbara wrote her first big band compositions and arrangements and found her own Jazz Orchestra. She had the luck to cast it with very well known and some of the best Austrian and international jazz musicians like trombonist Robert Bachner (Vienna Art Orchestra), rising star Viola Falb on saxophone or the late bassist Paulo Cardoso (Art Farmer, Benny Golson, Kenny Kirkland), as well pianist Danny Grissett from California.   
In 2013 she won the "Preis der deutschen Schallplattenkritik" (German Record Critics' Prize) for her debut album "Barbara Bruckmüller Big Band" containing original music and had the honor to write arrangements and compositions for Christian McBride, Peter Herbert ("Bass Instinct") and "The Su'Sis" among others.    
One year later Barbara recorded the next CD for which she arranged traditional Viennese Songs for the Big Band ("Mei Muatterl war a Weanarin" - My mother was a Viennese).    
In 2015/2016 her Big Band was the "Stage Band" at the Jazz & Music Club Porgy & Bess, Vienna. For this concert series she also wrote a film score for Alfred Hitchcock's silent movie "The Lodger" which was performed live to the movie by her small ensemble (10 piece band), worked together with the Spoken Word artist Wadud Ahmad from Philadelphia, as well as payed tribute to Frank Sinatra with New Yorker vocalist Tony Hewitt.
In 2017 Barbara was awarded with a grant for composing by the Austrian Office of the Federal Chancellor. With that she wrote "A Chain of Moments – A Suite in Five Parts for Piano, Strings and Jazz Orchestra" and a Suite for Thelonious Monk's centennial "MONK, you KNOW!?" where she extended the 15 piece band by a string quartet.    
Her latest work "The Spaces Within and Without" was presented at Porgy&Bess, Vienna in October 2021 and currently she just released her first Vinyl (EP) called "Barbara Bruckmüller Big Band live at Porgy&Bess, Sept 5, 2020".
"

I've been a fan of Barbara and her band for a couple of years. I love her sensibility as a composer. She's deeply embedded in the jazz tradition, but is by no means bound by it. Her compositions happily embrace other influences; the sounds that she creates are fresh, gorgeous, soulful. Not surprisingly, her band attracts fantastic musicians. (...)" - John Edwin Mason
 "This EP forms an anti-freeze against the cold of mainstream arbitrariness. Barbara Bruckmüller's ensemble creates modern jazz with a guarantee of vitality, The principle of individuality and a multi-layered methodology. A modern sound with a dusted-off preservation of tradition, Documented live in the formidable Viennese club Porgy&Bess. 500 pieces of vinyl convey joy of playing, Dynamics and high compositional competence. Big Band, big quality." 
-Christian Prenger (STARKSTROM/ Issue #28, August-September 2022) 
http://starkstrom.live/28-2022
"Diese EP bildet ein Anti-Frostschutzmittel gegen die Kälte der Mainstream-Beliebigkeit. Das Ensemble von Barbara Bruckmüller kreiert modernen Jazz mit Vitalitätsgarantie, Individualitätsprinzip und Vielschichtigkeitsmethodik. Ein moderner Sound mit entstaubter Traditionsbewahrung, live dokumentiert im formidablen Wiener Club Porgy&Bess. 500 Stück Vinyl transportieren Spielfreude, Dynamik und hohe kompositorische Kompetenz. Big Band, Big Quality."
"

(…) The compositional and orchestral ideas abound here, and it is easy to see the attention Barbara Bruckmüller devotes to the form of the pieces and their complex, multi-tiered structure, but this richness is not overwhelming for a moment. The music flows and develops naturally and freely, there is nothing too much here, let alone too little. The music is full of unusual tensions due to the wonderful virtuosity and musical imagination of the musicians. There is a special energy in a concert recording of this kind, and this type of music should only be recorded at concerts. So we are dealing with an extraordinary work. (...)" - Jacek Brun
'The Blackbird Knows Them All' was the title of the Big Band program in September 2020. The mood that evening was very good, for a long time there was finally a live audience again, it was streamed live and recorded. As a reminder of this beautiful concert, Barbara Bruckmüller has released her first vinyl with four of her compositions. An EP. In a small edition. Now the album will be presented live at the place where it was created, at Porgy & Bess, with mostly the musicians who were there in 2020. 
This evening is dedicated to the horn player Birgit Eibisberger in loving memory.
'The Blackbird Knows Them All' war der Titel des Big Band Programmes im September 2020. Die Stimmung an dem Abend war sehr gut, es gab seit langem wieder live Publikum, es wurde live gestreamt und mitgeschnitten. Als Erinnerung an dieses schöne Konzert hat Barbara Bruckmüller ihr erstes Vinyl mit vier ihrer Kompositionen herausgebracht. Eine EP. In kleiner Auflage. Nun wird das Album am Entstehungsort, im Porgy & Bess, live, mit großteils den Musikern, die auch 2020 dabei waren, präsentiert.  
Dieser Abend ist in liebevoller Erinnerung der Hornistin Birgit Eibisberger gewidmet.  
"The river is moving. The blackbird must be flying." - Wallace Stevens 
Tickets: https://porgy.at/events/11097/    (you still can stream it here)
downloadable Press Photos