big band
"

For the last few years, the young Austrian composer, arranger, and conductor Barbara Bruckmueller and her band have been cooking up a tasty musical gumbo in the wilds of central Europe. All sorts of good things go into their pot -- ballads, New Orleans styles, odd meters, the Great American Songbook, Brazilian music, funk, rock, punk, and a little chanson. That list might look like a mish-mash, but, like good Louisiana chefs, Bruckmueller and company bring it all together." - John Edwin Mason
It has been more then ten years since the first concert of the BBBB - Barbara Bruckmüller Big Band - took place at Porgy & Bess, Vienna. Through all this time Barbara Bruckmüller's passion for the orchestra is still alive. In 2013 her first album "Barbara Bruckmüller Big Band" was released, filled with her own compositions. It was rewarded with the "Preis der deutschen Schallplattenkritik" (German Record Critics' Prize). On her second recording, a tribute to her late mother, the Viennese composer connected traditional viennese songs with the swing feeling and arranged them for the big band. The same year Barbara Bruckmüller took over the Porgy & Bess Stageband series for the season of 2015/16. In particular for spoken word artist Wadud Ahmad from Philadelphia, as well as for the accompaniment of a silent movie, for which she wrote the music, she reduced her ensemble to a small big band of 10 to 12 musicians.  
Special guests like New Yorker singer Tony Hewitt or Austrian trumpeter Thomas Gansch were admitted to the Big Band. Tony Hewitt came to Vienna for two evenings - one of them was dedicated to Frank Sinatra's centennial and the other one was a tribute to Ray Charles. Thomas Gansch was scintillating at the "Trumpet Tales" which were written for him by Klaus Wienerroither. A separate evening was dedicated to the female band members Viola Falb and Swantje Lampert, during which their compositions were highlighted. 
The Big Band includes great musicians, like trombonist Robert Bachner (Vienna Art Orchestra) and rising stars of the Austrian jazz scene. It even has/had international musicians with them like the american pianist Danny Grissett or the late Brasilian bass player Paulo Cardoso, who was already part and parcel of the band and not only left a big void musically but also as a human.  
For "A Chain of Moments - Suite in five parts" and "¡MONKuKNOW!?", which she wrote in 2017, the Big Band was extended by four strings and hence became a jazz orchestra. For this purpose she was government-sponsored by the BMUKK with a grant for composition. Her latest work "The Spaces Within and Without" was presented in 2021 and her most recent album Barbara Bruckmüller Big Band live at Porgy&Bess, Vienna - from a concert in 2020 was released on vinyl in 2022. She is currently working on her next planned recording "A Chain of Moments".
Mehr als zehn Jahre ist es her, dass das erste Konzert der BBBB - Barbara Bruckmüller Big Band - im Porgy & Bess, Wien stattfand. Nach all dieser Zeit ist Barbara Bruckmüller's Leidenschaft für das Orchester immer noch lebendig.  
2013 erschien ihre erstes Album "Barbara Bruckmüller Big Band", welches hauptsächlich Eigenkompositionen beinhaltet. Es wurde mit dem "Preis der deutschen Schallplattenkritik" ausgezeichnet. Auf ihrer zweiten Aufnahme, einer Hommage an ihre verstorbene Mutter, verband die Wiener Komponistin traditionelle Wiener Lieder mit dem Swing-Feeling und arrangierte sie für die Bigband. Im selben Jahr übernahm Barbara Bruckmüller für die Saison 2015/16 die Porgy & Bess Stageband-Reihe. Speziell für den Spoken-Word-Artist Wadud Ahmad aus Philadelphia sowie für die Begleitung eines Stummfilms, für den sie die Musik schrieb, reduzierte sie ihr Ensemble auf eine kleine Bigband von 10 bis 12 Musikern. 
Spezielle Gäste wie der New Yorker Sänger Tony Hewitt oder der österreichische Trompeter Thomas Gansch wurden in die Big Band aufgenommen. Tony Hewitt kam für zwei Abende nach Wien – einer war dem 100-jährigen Jubiläum von Frank Sinatra gewidmet und der andere eine Hommage an Ray Charles. Thomas Gansch glänzte bei den "Trumpet Tales", die Klaus Wienerroither für ihn geschrieben hatte. Den weiblichen Bandmitgliedern Viola Falb und Swantje Lampert wurde ein eigener Abend gewidmet, bei dem ihre Kompositionen hervorgehoben wurden. 
Die Big Band umfasst großartige Musiker, wie Posaunisten Robert Bachner (Vienna Art Orchestra)und aufstrebende Stars der österreichischen Jazzszene, wie die Saxophonistin Viola Falb (Falbfiction, PHOEN). Es waren und sind auch internationale Musiker dabei, wie der amerikanische Pianist Danny Grissett oder der verstorbene brasilianische Bassist Paulo Cardoso, der schon fester Bestandteil der Band war und nicht nur musikalisch, sondern auch menschlich eine große Lücke hinterläßt. 
Für "A Chain of Moments – Suite in five parts" und "¡MONKuKNOW!?", welche sie 2017 schrieb, wurde die Big Band um vier Streicher erweitert und wurde so zu einem Jazzorchester. Dafür wurde sie vom BMUKK mit einem Kompositionsstipendium staatlich gefördert. Ihr neuestes Werk "The Spaces Within and Without" wurde 2021 präsentiert und ihr jüngstes Album "Barbara Bruckmüller Big Band live at Porgy&Bess, Vienna" von einem Konzert im Jahr 2020 wurde 2022 auf Vinyl veröffentlicht. Derzeit arbeitet sie an ihrer nächsten geplanten Aufnahme von ihrer Suite "A Chain of Moments".
musicians since 2009: 
Saxes: Andreas See, Martin Harms, Viola Falb, David Mayrl, Cédric Gschwind, Florian Fennes, Herwig Gradischnig, Flo Fuss, Tobias Hoffmann, Nikolaus Holler Trumpets: Aneel Soomary, Kaya Meller, Simon Plötzeneder, Daniel Nösig, Dominik Fuss, Bastian Stein, Junior Galante, Bastian Stein, Markus Pechmann, Tobi Reisacher, Christian Wieder Trombones:  Robert Bachner, Mario Vavti, Clemens Hofer, Martin Grünzweig, Christina Baumfried Frenchhorn: Fabian Zangl, Birgit Eibisberger Piano: Hepi Kohlich, Danny Grissett, Alan Bartus Guitar: Peter Panayi, Edward Reardon Bass: Gina Schwarz, Paulo Cardoso, Stefan Bartus, Judith Ferstl, Karl Sayer Drums: Fabian Rösch, Wolfi Rainer, Thomas Froschauer, Reini Schmölzer, Wolfgang Kendl. Michael Prowaznik  special guests: Barbara Stark (voice), Tony Hewitt (voice), Wadud (voice), The Jetlag Allstars (Klaus Wienerroither, Mario Gheorghiu, Ernö Racz/Stefan Bartus), RIchard Oesterreicher, Thomas Gansch, 
Vinyl - EP
"Barbara Bruckmüller Big Band live at porgy&bess, sept 5, 2020"
limited edition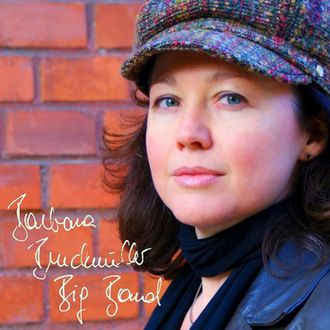 debut album
"BARBARA BRUCKMÜLLER BIG BAND"
CD-Produktion gefördert durch / promoted by:
Öst. Musikfonds & SKE